Introduction
The overriding concept in hyperacute care is that "time is brain" and that systems must be in place to rapidly receive acute stroke patients and quickly assess them. There are two real streams, those who may be suitable for urgent therapies and the rest. Urgent therapies would include Stroke Thrombolysis and Mechanical Thrombectomy and reversal of anticoagulation for those with ICH on anticoagulants and those deteriorating due to massive stroke and raised OCP who may benefit from decompression, EVD or craniectomy. These patients will become immediately apparent.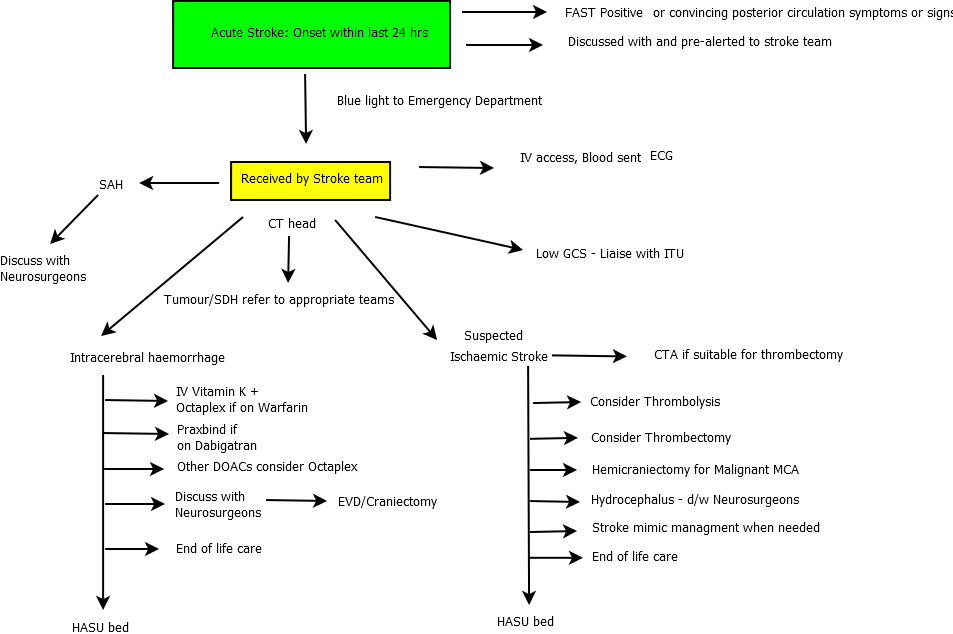 Training and Making Pathways Efficient
The key is to have stroke trained staff receiving these patients with no needless delays holding up the process. Once seen, immediate CT scanning should be done and this will aid management. Locally we aim to deliver thrombolysis within 20 minutes from arrival so we meet and greet the patient, get a handover from paramedics, establish time of onset and any possible contraindications to lysis such as anticoagulation. In the meantime the patient is quickly booked on systems and CT head booked and it's straight off to CT taking a history and examining on the way and while waiting. The history is focused as is the examination. Family are kept close by to help information gathering and they may be involved in the consenting process. The doctor and stroke nurse push the patient to CT and help radiology staff and at no point should the patient be waiting with no productive activity in place. One the CT is done it can be inspected, the BP re-checked, the weight verified and a quick checklist of contraindications and consent checked then we can prescribe and administer Alteplase. There is no need to do an ECG or to await blood results on the majority of patients. Each hospital has its own distinct preferences, some thrombolyse in the emergency department, others on the Hyperacute stroke unit. The main issue is to continually review your pathway to make sure it is efficient and safe and remove needless delays. Small improvements can all add up to significant reductions in door to needle times.
The initial stroke cased is based around several basic principles of identifying early acute interventions which may help and protecting the patient from complications.
Critical therapies and Interventions
This involves rapid assessment to determine those who are suitable for acute therapies that can improve outcome and this is one of the key reasons for patients to be rapidly admitted to a hyperacute facility with specialist care to assess for and manage these needs.
Managing and Preventing Early complications
Checking safe swallow before oral intake reduces aspiration
NG tube placement for feeding when appropriate
Using methods to prevent VTE - Intermittent calf compression, LMWH, Early mobilisation
IV fluids to prevent dehydration
Regular turns and monitoring to prevent skin damage and ulcers
Bowel management to prevent constipation
Prevention of shoulder damage and postural problems
Early rehabilitation to enable recovery
Management of seizures
Management of infections - UTI, RTI
Management of bowels and bladder, avoidance of catheterisation where possible